Back in April of last year I wrote about job numbers and trends for programming languages. Since the newspapers tell me we're all doomed to the soup line in the near future, I decided to compare the job numbers from last year to what we have now. Here's the result: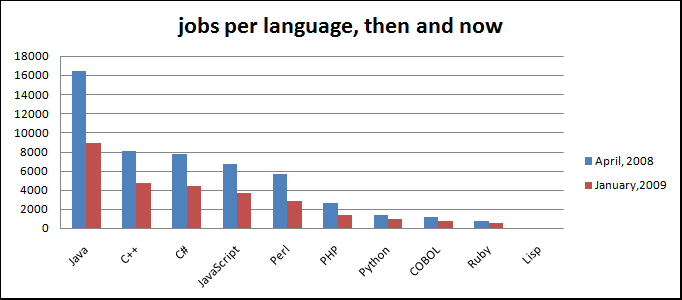 All the numbers are from Dice.com, a rough measure to be sure, but useful nonetheless. The average decrease in the number of jobs was 40%, which seems pretty bad. I don't know what the supply side looks like, but I imagine we now have more job seekers as well. Here is the % decrease in number of jobs, by programming language: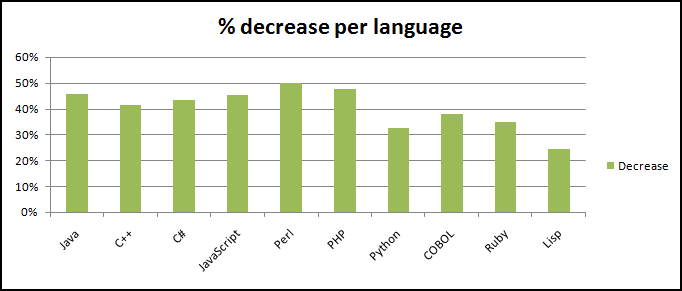 Interesting to see how Python and Ruby held out a bit better, while Perl declined the most. But despite a rocky short term, the overall picture for software engineers looks great according to the US Bureau of Labor Statistics:
Computer software engineers are one of the occupations projected to grow the fastest and add the most new jobs over the 2006-16 decade.
Excellent job prospects are expected for applicants with at least bachelor's degree in computer engineering or computer science and with practical work experience. (…)

Employment change. Employment of computer software engineers is projected to increase by 38 percent over the 2006 to 2016 period, which is much faster than the average for all occupations. This occupation will generate about 324,000 new jobs over the projections decade, one of the largest employment increases of any occupation.
Not bad huh? Back in 2001 I pestered the BLS economists about this, asking them what they thought offshoring effects would be and so on. They came across as truly bullish on programming, which makes sense to me. The degree to which society depends on computers and programmers will only grow from here. Meanwhile, there is a natural barrier to entry when it comes to programming. When explaining the folly of projects that aim to develop software to replace programmers, Scott Westfall put it this way:
Programmers think more logically. Working through if-then-else conditions is a core capability for any programmer. While working with business teams on requirements, I have often run across cases the where same ability was lacking. (…)

Programmers have a superior ability to analyze problems and come up with solutions. They excel at analyzing preconditions, sequences of events, and outcomes. Certainly, this is a key skill in programming, but it is also useful in troubleshooting and business case analysis.(…)

While people typically think of programmers as coders, whose main talent lies in writing the arcane syntax of programming languages. I think that their main talent lies in their ability to analyze, troubleshoot, and solve problems. Code is just the physical manifestation that culminates the thought process of the programmer.(…)
I see two major consequences of this. First, the supply of programmers is constrained because the work requires a fair bit of aptitude that cannot be replaced by training. Second, programmers have a lot of professional options due to these skills, which further hurts supply. I think the economics is in our favor and we're still lucky to be programmers, though we must be careful during the recession. What do you say? How does it look out there?
Update: you guys have brought up a number of points about the 'methodology' behind the Dice.com job numbers. For example, there are seasonal effects on hiring, so it would have been better to compare the two same months. Also, there may be a drop in the usage of Dice.com itself, rather than a drop in the number of available jobs. Besides, many good companies and applicants have turned away from Dice because of poor results for both sides. That is all true. I look at the Dice.com figures as a rough metric. But as a large tech jobs site I think Dice reflects the market at large, albeit imperfectly. A drop of 40% is significant enough that I find it likely it's a real phenomenon.
Comments