A few years back I got three silly tech certifications: Certified Information Systems Security Professional (CISSP), Microsoft Certified Database Administrator (MCDBA), and Microsoft Certified Systems Engineer (MCSE). That sounds like an odd mix of certs for a programmer; I have them because I'm a mercenary an independent developer and I also do architecture work. Many programmers regard certifications with scorn, for good reason. But merit, or lack thereof, is one piece of the puzzle. For me the main questions around a certification are:
Is there market demand for the certification?
Does the certification truly verify knowledge or ability?
Should I look for it when hiring?
Certification providers make a lot of claims about jobs and improved incomes due to certification. Most skip over the sticky issue of correlation versus causation. Do certifications boost your income, or is motivation behind both? Or, less graciously, is the data simply crap from people seeking your hard-earned cash? We can get an idea of demand from Dice.com: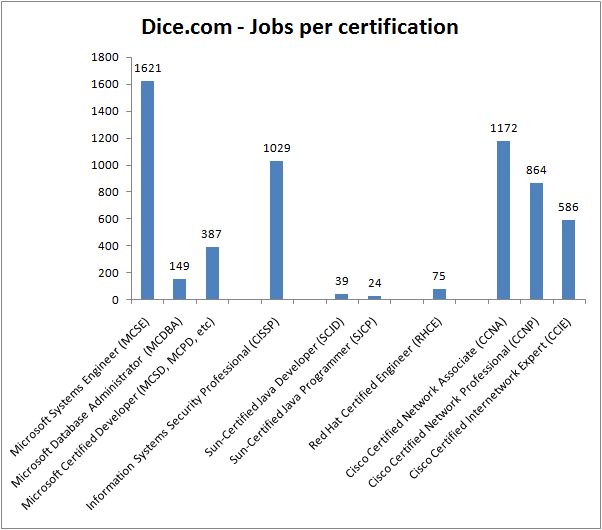 Is this the MCDBA? Or is this the CCNA? Or is this the IRA? I thought it was the UK!
By looking at total cert numbers, there's clearly some demand. Strangely Java certifications seem to be an exception. Please let me know if I made a mistake there. Absolute numbers tell part of the story, but a better test is comparing the number of jobs that mention a given certification to the total number of relevant jobs. The chart below is my attempt at that: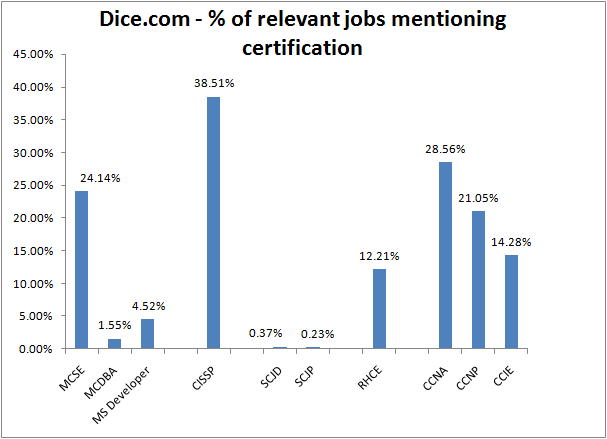 Dice.com – % of relevant jobs mentioning certification
The data is flawed since it's impossible to query "all relevant jobs", but I tried to make sure it was sane for each cert (I posted the actual searches as a comment). I think this reasonably captures market demand for certifications, including the fortunate reality that programmers can safely ignore them. Outside of programming demand is stronger; in security the CISSP is notably successful. There are two points worth mentioning. First, certifications still have an effect on customers and jobs that have not explicitly asked for it. Whether that matters depends on your career: people who are starting out or interview frequently for contracts stand to benefit more. Second, the more clueful a company is, the less stock they put in certifications. Some hardcore, academic, or start-up workplaces downright shun certifications, especially programming ones.
Which brings us to the next point: do these certs prove anything? For the ones I have obtained, all in multiple-choice format, I feel safe answering "hell no!" Certified people might truly know the subject or they might have studied for a month or they might be good at multiple-choice tests. Basic answering techniques go a long way toward passing the tests. The ol' elimination, contradiction, and parsing answers out of the tests themselves gets you almost there. Add a few hours studying targeted prep books and materials and random people could obtain random multiple-choice certifications, provided they test well in general.
When I took the tests my programming work involved security, so I fulfilled the CISSP requirement for three years of experience. I had decent knowledge of certain areas covered by the Microsoft stuff and the CISSP, but in other areas I was utterly ignorant. If these tests were up to snuff, I would have had to work much harder. The CISSP, given its better reputation, was a let down – I found it looser than the Microsoft stuff, which is dodgy to begin with. As luck would have it, in the week prior to the CISSP test (i.e., the study week) I started reading Harry Potter, which is like crack in that it takes your mind off everything, only more addictive. In the evening before the test I thought "crap, I just lost $400 in test fees." I wondered whether to even show up – "surely the mighty CISSP is harder than the Microsoft stuff and you can't pass with no study, little sleep, and a head full of Hogwarts." Not so. Hence, in a Groucho Marx sort of way, I lost all respect for multiple-choice certifications.
In fact, the CISSP unites two negative aspects of certification: a faulty testing mechanism coupled with a heavy-handed experience requirement. I oppose criteria like degrees and years of experience, which correlate weakly with talent and job performance. They also strike me as unfair in a certification – let each employer decide how to value such things independently of the knowledge 'verified' by the testing.
My conclusion is that certifications based solely on multiple-choice tests are at best misguided and at worst shams. I don't see how they could be fixed either. There is a fundamental disconnect between filling in the right blank and getting technology work done. For programming certifications the multiple-choice format is ludicrous. Hence these silly tests will remain a marketing and money-making scheme fueled by naive employers, who put faith in vacuous credentials, and the professionals who play along for supposed career benefits. Or maybe they're fueled by the naive customers of the employers.
The final question is whether to look for certifications when hiring. In my experience there's actually some positive correlation between certifications and the quality of job candidates, but it is too weak to be useful. I can't use certifications as a weeding tool, they don't guarantee a phone interview is worthwhile, and I would never rely on them for a hiring decision. Multiple-choice certs are silently ignored in my hiring process. The reality might be different for more stringent, hands-on certifications like the Cisco Certified Internetwork Expert (CCIE).
As to whether you should get certified, it's obviously too particular a decision, but I hope this information helps. One of the best pro-certification arguments is that if you study the stuff anyway, for fun or profit, then why not go ahead and take the tests? It helps you focus somewhat and you get the warm fuzzy I-passed feeling. Coupled with the potential advantages in the market, maybe that's good enough reason to take them. For those in markets where certifications are strong, it may be necessary. But on principle I'd sooner avoid them and for most programmers I don't think they make sense.
Certifications that actually proved some knowledge and talent would be useful for job seekers and employers. Where possible, we must shun broken certifications and pressure vendors into adopting a valid testing scheme. This necessarily would involve practical tests, like the ones in the Red Hat Certified Engineer test or the CCIE. Both are head and shoulders above the ones I took. For programmers, certification could use on-the-spot, time-capped programming assignments. The results could be a mixture of the source code produced (the most important piece) and the outcome of an automated test suite. That'd be pretty useful during the selection process: the ability to see source code produced in standard conditions of temperature and pressure, before you sink hours into a candidate.
What do you say?
Comments