I hope the previous post explained virtual memory adequately, but I must admit I held back a much better explanation, which I first saw in Expert C Programming. It wasn't written by the book's author, Peter van der Linden, but rather by Jeff Berryman in 1972. Here goes:
The Thing King and the Paging Game
This note is a formal non-working paper of the Project MAC Computer Systems Research Division. It should be reproduced and distributed wherever levity is lacking, and may be referenced at your own risk in other publications.
Rules
Each player gets several million things.
Things are kept in crates that hold 4096 things each. Things in the same crate are called crate-mates.
Crates are stored either in the workshop or the warehouses. The workshop is almost always too small to hold all the crates.
There is only one workshop but there may be several warehouses. Everybody shares them.
Each thing has its own thing number.
What you do with a thing is to zark it. Everybody takes turns zarking.
You can only zark your things, not anybody else's.
Things can only be zarked when they are in the workshop.
Only the Thing King knows whether a thing is in the workshop or in a warehouse.
The longer a thing goes without being zarked, the grubbier it is said to become.
The way you get things is to ask the Thing King. He only gives out things by the crateful. This is to keep the royal overhead down.
The way you zark a thing is to give its thing number. If you give the number of a thing that happens to be in a workshop it gets zarked right away. If it is in a warehouse, the Thing King packs the crate containing your thing back into the workshop. If there is no room in the workshop, he first finds the grubbiest crate in the workshop, whether it be yours or somebody else's, and packs it off with all its crate-mates to a warehouse. In its place he puts the crate containing your thing. Your thing then gets zarked and you never know that it wasn't in the workshop all along.
Each player's stock of things have the same numbers as everybody else's. The Thing King always knows who owns what thing and whose turn it is, so you can't ever accidentally zark somebody else's thing even if it has the same thing number as one of yours.
Notes
Traditionally, the Thing King sits at a large, segmented table and is attended to by pages (the so-called "table pages") whose job it is to help the king remember where all the things are and who they belong to.
One consequence of Rule 13 is that everybody's thing numbers will be similar from game to game, regardless of the number of players.
The Thing King has a few things of his own, some of which move back and forth between workshop and warehouse just like anybody else's, but some of which are just too heavy to move out of the workshop.
With the given set of rules, oft-zarked things tend to get kept mostly in the workshop while little-zarked things stay mostly in a warehouse. This is efficient stock control.
Long Live the Thing King!
Update: Alex pointed out the difficulties of measuring grubbiness in a comment below.
Back in 2000 The Onion made fun of Libertarians and published this nugget: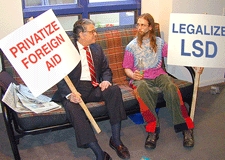 Joking aside, a powerful idea attracts a wide range of people. Copyleft is such an idea. It turns copyright on its head by using authorship rights to enforce the public's ability to distribute, modify and use the copyrighted work, rather than to curb it as is normally the case. Several copyleft licenses exist, the most prominent in software being the GPL, first released by Richard Stallman in 1989.
There are two main factions supporting the GPL: the pragmatic camp of Linus Torvalds and the ideological camp of Richard Stallman. The Linus camp sees copyleft as the enabler of a superior way to produce software, in which distributed and open development takes place because people are encouraged and protected by the license. The individual programmer is assured that their contributions must always remain a public good and cannot be coopted for private gain. Others may profit from the software, sell it, or support it, but the source code must be available, modifiable and distributable. This is a powerful motivator, the same force that makes people help the Wikipedia but not for-profit outfits.
For large-scale development involving multiple corporations, copyleft solves a type of free rider problem by ensuring that all participants must give back to the common pool of development. This protects investments and tends to boost returns, and a brief look at the Linux Kernel Mailing List shows that major tech companies are happy to play along. I bet you can do some game theory and prove some results for cooperation under GPL.
To the Linus camp the GPL is a means to foster this ecosystem, the end being better software. There are no moral imperatives or political reasons behind the whole thing, which surprises some people. Proprietary software is "alchemy" while open source is science. Here's Linus:
In my book, what matters is what you do – whether you want to sell things is your personal choice, but even more importantly it is not a moral negative or positive. I'm a big believer in open source as creating good stuff, but I don't think it's a moral issue. It's engineering.

So I think open source tends to become technically better over time (but it does take time), but I don't think it's a moral imperative. I do open source because it's fun, and because I think it makes sense in the long run.
And here's more:
Just to explain the fundamental issue: To me, the GPL really boils down to "I give out code, I want you to do the same." The thing that makes me not want to use the GPLv3 in its current form is that it really tries to move more toward the "software freedom" goals. For example, the GPLv2 in no way limits your use of the software. If you're a mad scientist, you can use GPLv2′d software for your evil plans to take over the world ("Sharks with lasers on their heads!!"), and the GPLv2 just says that you have to give source code back. And that's OK by me. I like sharks with lasers. I just want the mad scientists of the world to pay me back in kind. I made source code available to them, they have to make their changes to it available to me. After that, they can fry me with their shark-mounted lasers all they want. This is where the GPLv3 diverges. It limits how you can use the software.
The Stallman camp, however, sees GPL-licensed software as the end itself. They claim that software should be free on moral grounds, citing several reasons. Hence it matters not whether the software or the process are superior. One must use free software regardless because it is the right thing to do, while proprietary software is inherently immoral. Here's Stallman:
Supporters of open source (which I am not) promote a "development model" in which users participate in development, claiming that this typically makes software "better" — and when they say "better", they mean that only in a technical sense. By using the term that way, implicitly, they say that only practical convenience matters — not your freedom.

I don't say they are wrong, but they are missing the point. If you neglect the values of freedom and social solidarity, and appreciate only powerful reliable software, you are making a terrible mistake.

The fact that Torvalds says "open source" instead of "free software" shows where he is coming from. I wrote the GNU GPL to defend freedom for all users of all versions of a program. I developed version 3 to do that job better and protect against new threats. Torvalds says he rejects this goal; that's probably why he doesn't appreciate GPL version 3. I respect his right to express his views, even though I think they are foolish. However, if you don't want to lose your freedom, you had better not follow him.
Discussions of copyleft often blur these two camps. For much development this is irrelevant – the license stands on its own irrespective of people's motivations. But this schism explains periodical battles like the GPLv3 controversy, the endless flames when a proprietary source control tool was used for the kernel, and the GNU/Linux naming controversy. The distinction is also important when thinking about free/open source software and what to make of it.
Here's the first known recorded usage of the word "hacker" in the tech sense, published in 1963 in MIT's The Tech newspaper: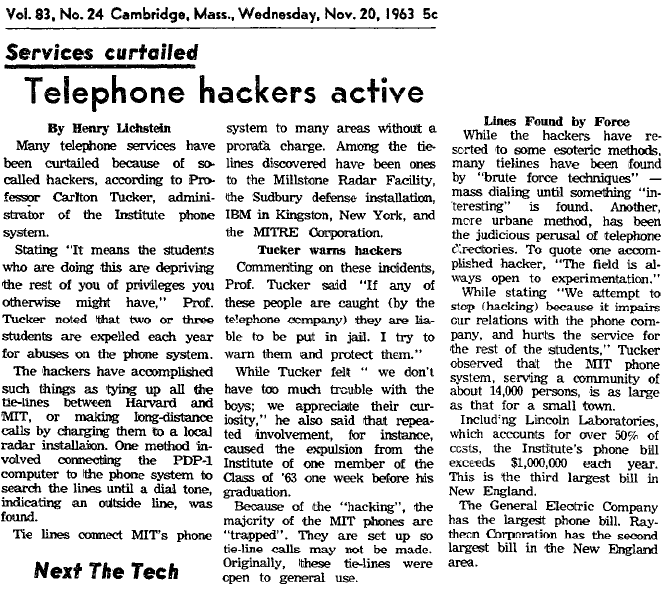 It was tracked down by Fred Shapiro, editor of The Yale Dictionary Of Quotations and author of a paper with a most hilarious and offensive name. The MIT article dispels the common notion that "hacker" was a purely white-hat term later corrupted by the media. The black-hat connotation was there early on; Richard Stallman was 10 years old when this was printed.
Most of what the article describes is now known as phone phreaking, though some sounds like war dialing. It is fascinating this was taking place in 63, over four decades ago! The international phreaking scene was still strong through the late 90s, abusing home country direct lines with software like BlueBEEP ("when freedom is outlawed, only outlaws will be free"), plus cell phone cloning and whatnot. That's nearly 40 years of phreaking, though phone companies have since managed to stop widespread fraud.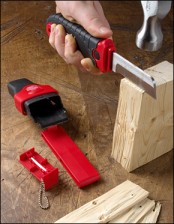 Hacking
This of course doesn't "prove" that the black-hat meaning is the "true" meaning of hacker, just as "one who is employed doing mathematical calculations" is not the "true" meaning of computer. Language is fluid. The New Hacker's Dictionary has this to say in the word's definition:
1. A person who enjoys exploring the details of programmable systems and how to stretch their capabilities, as opposed to most users, who prefer to learn only the minimum necessary.

2. One who programs enthusiastically (even obsessively) or who enjoys programming rather than just theorizing about programming. (…)

8. [deprecated] A malicious meddler who tries to discover sensitive information by poking around. Hence `password hacker', `network hacker'. The correct term for this sense is cracker.
The white-hat definitions are popular among geeks, but I'm not so sure about the deprecation. For one thing, cracker has a precise and also popular meaning: one who removes copyright protection from software. Meanwhile, blackhats aren't exactly rolling over to surrender their language either. From the latest Phrack issue:
So no, I wasn't that kid that used to hang out at Radio Shack pulling apart electronic equipment and reassembling it to "see how it works." (…) that doesn't make you a "hacker" – it makes you a wannabe EE undergrad. (…) Hacking boxes makes you a "hacker" ! That's right! Write your local representatives at Wikipedia / urbandictionary / OED and let them know that hackers are people that gain unauthorized access/privileges to computerized systems!
The whole thing would offend most people, so no link. It's readily googable but be careful about browser exploits, you never know. As a neutral party, Wikipedia has sensible guidelines when it comes to controversial names:
A city, country, people or person, by contrast, is a self-identifying entity: it has a preferred name for itself. The city formerly called Danzig now calls itself Gdansk; the man formerly known as Cassius Clay now calls himself Muhammad Ali. These names are not simply arbitrary terms but are key statements of an entity's own identity. This should always be borne in mind when dealing with controversies involving self-identifying names. (…)

A number of objective criteria can be used to determine common or self-identifying usage:

Is the name in common usage in English? (…)
Is it the name used by the subject to describe itself or themselves?
These criteria apply squarely to both types of "hackers." Common usage? Check. Used to describe themselves? Definitely. The word is now hopelessly ambiguous, as it seems to have been from the start, puzzling outsiders. But it's always clear to hackers.
When I was 18 and newly arrived in the US, I used to wonder around enjoying new features like the rule of law and great libraries everywhere. Once while bumming out in North Denver I went into the Regis University library determined to read about physics. I had tried that once before, back in my high school, with poor results. As a teenager I had been obsessed with "understanding" physics and chemistry, especially atomic and quantum theory. I didn't know enough math to study the subjects deeply, but I wanted a conceptual grasp, however incomplete, that was at least half-way consistent and clear.
My high school books and classes left me with the strong feeling that I simply did not get physics. Try as I might, I could not accept the bizarre results of quantum mechanics, wave-particle duality, or how Heisenberg's uncertainty principle could even be science. I was baffled. When I brought it up with teachers, they had ready-made analogies to "teach" what happened in this sub-atomic world. "Think of the solar system," "think of springs connected to each other," "well, it's like this, suppose you have…" These analogies didn't help at all. "You think too concretely, that's why you can't visualize it," told me a teacher.
So I'd sit there and try things, think nonverbally, think in wild shapes, somehow think differently to see if I could imagine a sub-atomic particle and "get it." No go. I wondered whether programming had perhaps damaged my mind by making it inflexible. I went to the school library and found a more advanced physics book, a bit tattered but no matter. I quit reading when I realized the book still assumed the existence of the ether. "Screw this," I thought. So I flipped off the science bit, kept to my computers, and carried on.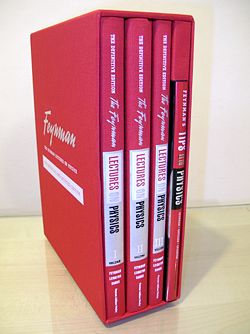 But here I was in the USA, land of opportunity and well-stocked libraries. Looking in the physics section I saw "The Feynman Lectures on Physics" sitting there, three volumes. I had a vague idea of who Feynman was, so I picked up the books and went straight to Volume 3, Chapter 1, Quantum Behavior. In the very first page he comes right out and says:
Things on a very small scale behave like nothing that you have any direct experience about. They do not behave like waves, they do not behave like particles, they do not behave like clouds, or billiard balls, or weights on springs, or like anything that you have ever seen. (…)

Because atomic behavior is so unlike ordinary experience, it is very difficult to get used to, and it appears peculiar and mysterious to everyone–both to the novice and the experienced physicist. Even the experts do not understand it the way they would like to, and it is perfectly reasonable that they should not, because all of direct human experience and human intuition applies to large objects. We know how large objects will act, but things on a small scale just do not act that way.
I felt a rush of enthusiasm reading this. It was so humble and visceral and honest. This was science in a way I had never seen before, simultaneously more rigorous and human. That first page alone drove a sledgehammer to my worldview and started rebuilding it. Perhaps childishly, I thought of the Hacker's Manifesto: "we've been spoon-fed baby food at school when we hungered for steak." I had just found one hell of a juicy stake. At one point Feynman asks students to imagine the various electromagnetic fields and waves in the classroom: coming from the earth's interior, carrying radio and TV signals, traveling from warm foreheads to the blackboard, and so on. Then he says:
I have asked you to imagine these electric and magnetic fields. What do you do? Do you know how? How do I imagine the electric and magnetic field? What do I actually see? What are the demands of the scientific imagination? Is it any different from trying to imagine that the room is full of invisible angels? No, it is not like imagining invisible angels. It requires a much higher degree of imagination (…). Why? Because invisible angels are understandable. (…) So you say, "Professor, please give me an approximate description of the electromagnetic waves, even though it may be slightly innacurate, so that I too can see them as well as I can see almost-invisible angels. Then I will modify the picture to the necessary abstraction."

I'm sorry I can't do that for you. I don't know how. I have no picture of this electromagnetic field that is in any sense accurate. (…) So if you have some difficulty in making such a picture, you should not be worried that your difficulty is unusual.
Volume 2, pages 20-9 and 20-10
Surely you're joking – you don't know?? I could hardly believe what I was reading. I had been hoping for a better explanation – a masterful analogy of weights on springs that would allow me to really understand physics. Instead, here was a Nobel laureate telling me that he didn't really understand it either – not in the definite, make-believe fashion of high school science. Feynman lifted the veil for me – all my sanitized textbooks and uninspired teachers presented science with finality and devoid of context, as if the gods had handed down a few scientific models to us. Analogies that were meant to "help understand" reality had in fact supplanted it; it was not simplification, but a gross distortion of what science really is. This fake teaching would never say that atomic behavior is "peculiar and mysterious" because "human intuition applies to large objects." No, its entire aim was to pretend that science is not mysterious.
Feynman embraces the whole of science: its beauty, its methods, the history and relationships of its ideas, how our minds react to it, and above all how it stands before the ultimate judge, nature. He's at once fiercely empirical yet mindful of the crucial human context surrounding scientific ideas. The lectures are not only great technical writing but also a deep look into how we think about the world, into reason and the nature of knowledge. Of course, much of the work is to be done with paper, pencil, and math. Back then I didn't even know calculus, so I couldn't really follow all the equations. But the books still gave me what I was looking for, and then some.
Now I have an undergrad in math, which puts me roughly in the 18th century, but better equipped to learn on my own. Some day I hope to take time off and hit physics again. If you want to read more of his stuff, Feynman wrote an insightful essay on engineering and there's the classic Cargo Cult Science, both online. Amazon has the lectures along with other books, and so might your local library.